The 2020 Subaru Love Promise Customer and Community Commitment Award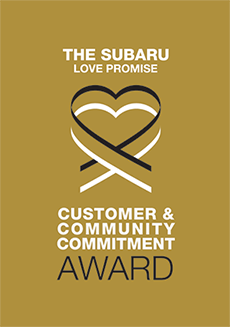 We've been nationally recognized for our dedication to our customers, our community, and the Subaru Love Promise.
We're honored to receive the 2020 Subaru Love Promise Customer and Community Commitment Award. This award nationally recognizes elite Subaru retailers who provide an exceptional customer experience at every interaction with Subaru. These retailers have also demonstrated an outstanding commitment to supporting passions and causes in their local communities in important areas such as the environment, community, health, education, and pets.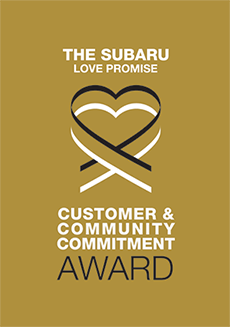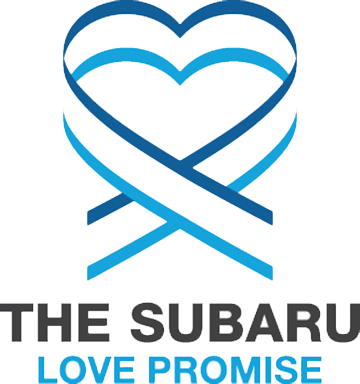 What is the Subaru Love Promise?
Subaru and our retailers believe in making the world a better place and the Subaru Love Promise is our vision of respecting all people. This is our commitment to show love and respect to our customers and to work to make a positive impact in the world.
How is Hunter Subaru dedicated locally to the Love Promise?
Our Love Promise can be seen in various partnerships with local charities and non-profits. We're grateful for the opportunity, not only to be a part of our community, but to serve it as well.
Blue Ridge Humane Society
Hillandale Elementary School
Boys & Girls Club of Henderson County
Love Promise Stories from Hunter Subaru
Subaru and Hunter Subaru believe in making a positive impact on the communities in which we live and work. We uphold that belief through our Love Promise Community Commitment. Every month, we select inspiring stories from customers and partners from around our area who strive to support our collective commitment and feature them here
Subaru Invests in Futures, Boys & Girls Club - Stacie M
Each day, Hunter Subaru invests in youth at The Boys & Girls Club. But each year, one special youth is selected to receive help in reaching their education goals – our Youth of the Year. The Youth of the Year title is the highest award a Club member can be given, going on to compete at State levels and beyond as ambassador of our work. Hunter Subaru recognizes the accomplishments of this youth with a college aid award of $1,000. The stories of these exceptional young people share prove just how important our work and Hunter Subaru's investment is to our community. In fact, we think they say it best. So here what our Youth of the Year had to say: Marcella: "I am a lifelong Club kid, starting at six years old. My sophomore year of high school was a year of angst, grief, and loss. Through all of it, the Boys and Girls Club was a steady and constant source of support. I lost motivation and fell behind in school. The sadness, anger, and anxiety made it feel like I carried bricks on my back. I became quiet. I spent days at a time in my room. The emptiness was the worst pain I have ever experienced. (At the Club) I became close to Ms. Marla and Ms. Gina, who's smile and laugh always cheered me up. They were there for me and encouraged me to talk about what I was going through. Ms. Marla gave me healthy ways to express my pain like painting to release anger and anxiety. I decided that I wouldn't treat the Club as a place to hide anger and pain behind a smile. It was a place to express feelings. I learned to open up, to connect with others, and to use my voice. I learned how to take care of myself." All our nominees are a direct testimonial to the investment Hunter Subaru has made. We are so grateful. Thank you, Hunter Subaru!
---
Hunter Subaru Makes Winter Coats Possible - Dick M - Dick M
When COVID-19 cancelled virtually all cycling and running events in western North Carolina, Hunter Subaru stepped up early on as Presenting Sponsor for the Tour d'Apple charity cycling event on Labor Day in September 2020. With Hunter Subaru's generous contribution and Idaph Events' ingenuity and event management, Four Seasons Rotary Club of Hendersonville, NC, did the almost impossible - hosted a socially distanced and COVID free cycling event through the apple orchards and up and down the mountains of Henderson County for 375 avid cyclists. What does that have to do with winter coats!?! Many of the cyclists made extra donations, totaling $1043. Four Seasons Rotary Club then gave 100 % of those donations to Interfaith Assistance Ministry (IAM) for its purchase of 75 new winter coats for children in need. So without Hunter Subaru there would have been no Tour d'Apple in 2020; no cyclists giving an extra $1043; and no check from the Rotary Club for winter coats. Many thanks to Hunter Subaru and Randy Hunter for making possible the Tour d'Apple and winter coats possible for kids in this really crazy year.
---
Hunter Subaru Brings Pet Owners Together - Laura R
The 2020 edition of the Hunter Subaru Strut Your Mutt 5K and 1 Mile Run/Walk benefiting Blue Ridge Humane looked a lot different this year. Instead of a starting line there was just a course map, instead of a mass start, there was a weeklong window to complete the event since it went virtual. But throughout all the changes and safety precautions that were put into place, Hunter Subaru never wavered as our race presenter! Instead, the 2020 edition of the run/walk did something almost more special, it brought people together with their friends, family, and of course, dogs, to complete the event and support Blue Ridge Humane on their own, all while celebrating the love of a pet, even while apart!
---
Hunter Subaru supports future auto pros - Joe S. - Colby D
Hunter Subaru has always been a strong supporter of Blue Ridge Community College's students, particularly its Automotive department, not only through scholarships, but also by continuing to employ our hard-working graduates. Hunter Subaru was the first group to approach Blue Ridge leadership about the possibility of an automotive apprenticeship; an idea that came to fruition in the fall of 2020 and continues to attract countless students from our surrounding community. The Hunter organization actively participates in many events the College hosts. They also let our Transportation Technologies students take part in job shadow events every semester, which offers an invaluable look into the professional world. We are so grateful to Hunter Subaru for their continued interest in our students and continued support of the automotive industry.
---
Hunter Subaru Inspires Love of Nature! - Jenn T
Hunter Subaru is protecting natural places, inspiring the love of nature, and getting people of all kinds outside! Conserving Carolina is so grateful to Hunter Subaru for providing a $5,000 matching grant to support Conserving Carolina's Land Trust Day campaign. This matching gift helped us raise over $25,000 in just four days for conservation. This critical funding supports important projects like the creation of a 130+ mile state trail network in Hickory Nut Gorge, the expansion of DuPont State Recreational Forest, and engagement opportunities like field trips to conservation land for kids in our region, 31 life changing AmeriCorp Project Conserve service positions, and Conserving Carolina's Hiking Challenge. We are so grateful to Hunter Subaru for investing in our environment and in our community. Thank you!
---
Hunter bring smiles across a county - Stacie M
These days everyone needs a smile and a note to let you know someone cares. The Boys & Girls Club was able to do just that for nearly 1,000 individuals due to the generosity of Hunter Subaru in July. Thanks to their charitable support of our "Giving Outside the Box" project, the Boys & Girls Club sent care packages throughout the community aimed at touching lives Mind, Body, and Soul. With a crossword, a recipe for chicken soup, personal thank you notes, words of encouragement, as well as stories from Boys & Girls Club members, art, and hand soap to care for your body the response has been tremendous. "People have been calling just to say thanks and that it made them feel good." Remarked Stacie Marlowe, Director of Resource Development. And that's exactly what Hunter Subaru made possible with their support; spread a little joy, and a lot of happiness. With Hunter's support setting the tone in community giving donations have been steadily arriving at the Boys & Girls Club in response to the project's thoughtfulness. This has allowed the Club to continue to serve youth throughout this summer, reaching 266 youth with tutoring and education interventions, physical fitness and wellness programs, as well as art, social and emotional learning, counseling, and encouraging relationships. So remember, wash those hands and take a page from Hunter Subaru – Share the Love, Not the Germs.
---
Thank You from MANNA FoodBank - Olivia O
Thank you so much for your support! Hunter Subaru's recent food and financial donations are providing 4,692 meals to our WNC community! During these unprecedented times the continued support from our community partners and donors is crucial to our ability to keep serving the growing number of people in need of food. The support we received from Hunter Subaru will bring both food and hope to so many in our community! We are so grateful!
---
Boys and Girls Club - Youth of the Year - Stacie M
Since 2003 Hunter Subaru has invested more than $325,000 into The Boys & Girls Club of Henderson County, shaping positive futures for many of the community's most at-risk youth. With Hunter's partnership, the Club serves over 1,300 young people each year with year-round after school and summer programs that promote school success and career readiness, healthy lifestyles and positive personal decision making. Because Club members typically share two common denominators, poverty and fractured families, this work is vitally important. Keeping the Club accessible is vitally important as well. Hunter Subaru is a key partner in removing a critical financial barrier for families: an all-inclusive annual membership costs just $5 per child! As a leading event sponsor for all Club fundraisers, Hunter Subaru also enables the Boys & Girls Club to host four signature events each year, reaching deep into our community and generating over 17% of our annual budget. Thanks to the generosity of this business, daily at the Club, hundreds of young people have the opportunity to eat free, healthy foods, receive homework help, take part in volunteer service, create art, engage in physical activity, build positive relationships, and even earn their first jobs. Hunter Subaru is more than just a company. For the young people who need us the most, Hunter Subaru is an agent of change, helping the Boys & Girls Club of Henderson County to inspire and enable young people to realize their full potential as responsible, productive, caring citizens.We are ever grateful, and our community forever changed due to Hunter Subaru's tremendous support.
---
Hunter Subaru Shares the Love - Laura R
In 2019 Hunter Subaru shared the love with Blue Ridge Humane Society and sponsored the Strut Your Mutt 5K. The event allowed BRHS to raise much needed funds for the care of our animals. Over 120 runners and walkers, both human and furry enjoyed the event! As a result of Hunter Subaru's support, following the run four adoptable dogs found their new homes and the happily ever after that all dogs deserve! Thanks to Hunter Subaru for making sure that Twinkie, Gummy Bear, Augustine, and Allistar found love and a family that day, and for making sure every animal at Blue Ridge Humane has their chance to have Love and a Family!
---
Couldn't have done it without Hunter Subaru!!! - Aaron S
Hunter Subaru of Hendersonville, NC literally saved my race from being cancelled!!! Hunter came on board well ahead of our Trail Race in DuPont State Forest as the Title Sponsor. Planning was going well, and the event even sold out! Race week came and I went to set up the course. An unpredictable snow began to fall. It kept falling. Four inches later, and upon completion of marking the 15.5 mile course, the Forest Service Ranger called and told me we had to postpone the event. Thankfully we had a makeup date the following week. NO PROBLEM!!! As the forecast came out for that following week, it called for rain. LOTS OF RAIN! Over 5" of rain. I knew DuPont would close its single track trails (rightly so), and I would need an alternate course, so I submitted and had an alternate course approved. Then the monkey wrench was thrown into the spokes! We weren't going to be able to park in DuPont. I had to find another place to park and shuttle the runners to DuPont. An unpredictable expense, and something without the Hunter Subaru sponsorship (and the generous donations of the runners), the event would have been cancelled! I am so grateful that Hunter Subaru supports local events like mine and allows me the opportunity to share the open spaces so many of us forget about and create experiences for so many people that not only create great memories, but lasting friendships amongst what were total strangers prior to the event! Hunter Subaru is a partner I'm thankful to have! You'll recognize my Subaru Outback driving around to trailheads and races. I bought it at Hunter! Respectfully submitted, Aaron Saft
---
Hunter Subaru helps make the cancer journey better - Catherine D
Journey to be FREE Naturally is a local 501(c)(3) nonprofit and critical cancer support resource for individuals coping with the impact of a cancer diagnosis in western North Carolina. This all-volunteer nonprofit is self-funded. Cancer is a traumatic experience that can change your whole life. Struggling with anxiety and depression is a normal response when coping with cancer. Dealing with cancer has a significant financial impact. This is why we offer our programs at no cost to make sure those impacted have access to the programs they need and want. However, there is a cost to this nonprofit. This is why we are so grateful to the Hunter Subaru team! Journey to be FREE was selected as the charity to receive the funds raised from their "No Shave November" fundraiser. Thank you to all who participated in this fundraiser! Your generous support is greatly appreciated! The number of new cancer cases is steadily increasing each year. It is our mission to make sure that individuals impacted by cancer have access to the support, education, social connection, resources, wellness programs, and community they need (and want) to help move through a very difficult time in their life. Thanks to Hunter Subaru's support, we can continue to focus on making the cancer journey better from the point of diagnosis through treatment, recovery, survivorship, and beyond!!
---
Tour D'apple Charity Cycling - Richard M
At Four Seasons Rotary Club of Hendersonville, we are truly grateful for Randy Hunter's and Hunter Subaru's seven years as a Presenting Sponsor of the Tour d'Apple on Labor Day each year. On Labor Day 2019, well over 600 cyclists enjoyed from twenty-five to one hundred miles of cycling through the mountains and apple orchards of Henderson County, NC - all thanks to Hunter Subaru and Subaru of America. Their support enabled our Rotary Club to provide funds for scholarships and student emergency funds for Blue Ridge Community College, books for local school libraries, refreshments for Special Needs Sports, meals for homeless students, and many more projects. Randy, many thanks! More at www.tourdapple.com.
---
Hunter Loves Pets! - Laura R
Hunter Subaru finds so many ways to support Blue Ridge Humane Society with the Subaru Love Promise! Every year our animals receive are gift with toys and treats in addition to the pawsitively awesome support that Hunter Subaru provides for events like Strut Your Mutt 5K Walk & Run in Hendersonville. The support of Hunter Subaru over the years has helped Blue Ridge Humane save even more animals and inspired the next generation of supporters like Daniel who made his mom drive him out to the Adoption Center on the inaugural Make a Dog's Day because he HAD to donate food to our animals for the Subaru of America, Inc. Make a Dog's Day! Thank you Randy, Tom, and Hunter Automotive for being Hometown Heros to the pets and pet owners of WNC!
---
Hunter Subaru Makes A Lasting Impact - Jenn T
Conserving Carolina love's our home in the mountains and foothills, and we are so grateful that Hunter Subaru does too! Thanks to help from Hunter Subaru, Conserving Carolina raised over $105,000 this year at our annual Conservation Celebration fundraiser. This funding enables us to protect precious biodiversity, create parks and greenways, keep water clean, preserve historic farmland, and connect the next generation to nature. Together, we are improving community wellness by providing natural spaces, safe parks, and greenways that promote physical and mental health. We are making sure that everyone has an opportunity to get outside, and we are connecting children with nature so they have a healthy place to learn, and grow. We are so grateful that Hunter Subaru helps us leave this lasting impact on our community for generations to come.
---
Hunter, BBQ Ball, Leadership for Life - Kristin D
"Oh goodness. Without Camplify? Gosh, I don't know where we would be". Frances, 77, is raising her great-grandson Derick as a single parent in the mountains of Western North Carolina. They live in a cabin, and she's had a number of surgeries, but she perseveres as matriarch of their household. At the end of the day, Frances's story is one of hope: Derick was nominated in the 4th grade to begin a nine year leadership journey to change their family tree. What began as a challenging weekend camp in elementary school has transformed into a year-round leadership journey. Now a high school (and Camplify) graduate, Derick served as a counselor-in-training, volunteer at monthly middle school Pathmakers programs, and as a LEAD Captain before becoming a paid camp staff member this summer. President and CEO of Hunter Subaru, Tom Hunter, called Camplify out of the blue years ago to say that they wanted to become annual sponsors. This year, Hunter sponsored the Camp For All BBQ Ball. Events such as these support whopping 776 nights at Camplify leadership camps this year. Camplify's five levels of programming showcase our commitment: to benefit youth who are facing life's obstacles through experiential learning anchored by camp. Camplify grants students the opportunity to develop skills outside of the classroom -- skills that every 21st century employer looks for, and skills that every person deserves to learn. Through our progression, students from grades 4 - 12 thrive by learning skills needed to become successful community members as they continue their education and enter into the workforce, perhaps as Hunter Subaru employees in the near future.
---
Make a Dog's Day - Andy A
Subaru is proud to establish the first-ever National Make A Dog's Day October 22nd. As part of Subaru Loves Pets month, we're inviting all dog lovers to do something extra special for their furry best friends. Plus, Subaru will be focusing our efforts on helping the hardest-to-adopt shelter Dogs –those with special needs-find homes. Get ready to fall in love withThe Underdogs. #MakeADogsDay Meet Gabi! Gabi has been at the Humane Society of NWGA (Northwest Georgia) for seven years. If you asked the volunteers to pick their favorite animal at the shelter, Gabi would win hands down. She does not do well with dogs or cats so must be the only animal in an adult only family. She loves people and will bond very quickly to you. Gabi would make someone a great companion. She is waiting patiently for her forever home. If you have room in your heart and your home for this sweet girl then please fill out an adoption application, highlight and right click this link: https://hsnwga.org/adoption/application-for-adoption/?fbclid=IwAR2Ie18p6U3ryKi-niIuIZFTd-waD98xrySl7IJmiRBXE239WP7dpODubiU #MakeADogsDay #SubaruLovesPets #TheUnderdogs
---
Caring for women in our community - Kimerly H
For over 20 years Pardee Hospital Foundation has worked with women in the community to provide funds for uninsured women in need of medical care. Literally hundreds of women have been assisted through the generous support of individuals and companies in our community. In addition to raising funds, we also honor women who are survivors - women who give one another courage and hope in the face of difficult health journeys. We welcome Hunter Subaru to our strong list of community supporters and want you to know that your gift saves lives.
---
Luck Comes In Many Forms - Cathy B
Julie Klever is one of the lucky ones. Last May, during a routine check-up, Julie mentioned she had been experiencing shortness of breath in recent months, and her astute doctor decided she needed to have further testing done on her heart and lungs. What was revealed was a shock to everyone. Julie had Stage 3 Follicular Lymphoma. She felt wonderful. She looked wonderful. She had cancer. It was so hard to wrap her head around the idea. So, why is Julie lucky? To this day, Julie is asymptomatic and on a 'watch and see' protocol. She has not had to begin any treatment. Her blood work continues to be perfect. And Julie knows just how fortunate she is. That's why Julie wanted to be a part of the Subaru Loves to Care partnership with LLS and help deliver blankets, kids' craft kits and messages of hope from Subaru customers to cancer patients in her local community. The month she was diagnosed, Julie's niece, who works for a cancer center in Columbus, OH, sent her information on the local LLS chapter in North Carolina. She immediately reached out to get involved. One might say Julie started to give back to others, even before she needed the kindness herself. Being able to meet the team at the local Subaru retailer, Hunter Subaru, to thank them personally for opting into the program each year, was very meaningful to Julie. Fixed Operations Manager, Kirk Firmin, Marketing Manager, Kate Redmon, General Manager, AJ Jones and Owner, Tom Hunter welcomed Julie and knew that she was involved with LLS and that she was a survivor. Her T-shirt said so! Julie caravanned with the team to the hospital and met with the staff of Mission SECU Cancer Center in Asheville, NC. Though the team was unable to have direct access to patients that morning, the staff was so grateful for the gifts and began giving them out immediately. Julie had this to say about her experience with Hunter Subaru. "I live just 10 minutes from the Subaru dealership, and already knew them to be very civic minded and involved in the community. So it was no surprise that they would opt into this program every year it's been offered. Receiving a gift like a warm blanket or craft kit with a message of hope and inspiration from a stranger does truly make a difference in a cancer patient's life. Being a part of this 'sharing the love' was incredibly significant to me as well. I know that one day I will be in this hospital being treated for my cancer, and that I am one of the lucky ones today. Thank you, Hunter Subaru, for caring so much about those fighting cancer in our hometown."
---
Hunter Subaru: Driving Great Futures - Jaime R
Out of the 1,200+ young people served annually at the Boys & Girls Club of Henderson County, most are at high risk of school failure, bullying, substance abuse, teen pregnancy, and other dangers. This is because they share two common denominators: 88% live in low-income households and 55% are raised by single adults. Nevertheless, these youth are defying the odds by succeeding in school, dodging risky behaviors, and giving back to the community through volunteerism. Through the years, Hunter Subaru's steadfast partnership was a driving force in the Club's generation-changing outcomes—outcomes like a 100% high school graduation rate, 77% of members making it on the honor roll, and 92% of youth reporting that the Club helped them stay out of trouble. Hunter Subaru's involvement also helped keep the Club accessible. An annual membership costs families only $5/child. Since 2003, Hunter Subaru has invested more than $236,000 in Club programs serving at-risk youth, helping make all of this possible. But, it turns out that their early, significant contributions were just the beginning. In recent years, the Boys & Girls Club became a victim of its own success. Demand for programs and services began to outpace the organization's capacity to serve. In 2016 alone, 422 young people were placed on waiting lists and 204 never gained membership. While the Club responded with a capital expansion, it turned out that building new program space wasn't the biggest challenge. The more urgent need was securing sustainable operating support to keep doors open, once construction was complete. Once again, Hunter Subaru stepped up as the driving force for positive community change. This year, they became the Club's exclusive Great Futures Corporate Champion with transformational gifts of $50,000 per year for five years, including a $15,000, per year, challenge gift that has already leveraged an additional $114,000 from other businesses and individuals. "We believe the future well-being of our community depends on how we raise our children. The Club does an outstanding job helping young people achieve in school and prepare for careers, live healthy lifestyles, and make positive personal choices," said Randy Hunter, President of Hunter Subaru. We are so grateful for Hunter Subaru's support and hope that you'll share the love by featuring their commitment at the national level. Thank you.
---
Hunter Subaru supports WNC Athletes - Dick M
Often while cycling, I take a drink from my Hunter Subaru water bottle, and I am constantly reminded to be grateful for the great support that Hunter Subaru and Subaru of America provide for cycling and other athletic events in western North Carolina. At most running, cyclocross, triathlons, and charity cycling events, Hunter Subaru and Subaru of America are there supporting and encouraging amateur athletes. Many thanks to Randy Hunter and Subaru for making western North Carolina a cycling paradise for me and thousands of like-minded amateurs.
---
Gifting Blankets Brings Smiles to Cancer Patients - Cathy B
On June 28th, Hunter Subaru, located in beautiful Hendersonville, NC, joined LLS NC to visit Mission Health SECU Cancer Center bringing 80 warm blankets and Subaru customer care cards with messages of hope and inspiration to patients during their infusion therapy time. The recipients were so touched by Subaru's generosity and told us they often get cold during their treatments and that the blankets were the perfect gift. We don't always have the privilege of personally delivering to patients due to privacy laws, but in this case, the Cancer Center Executive Director, Marika Loveless, saw the value and made it happen. We were honored to have in attendance Randy Hunter, Hunter Subaru Owner, Eric Swanson, District Sales Manager and Thom Morrow, Sales Manager joining LLS NC on this mission, and we thank them for their genuine caring for others. Hunter Subaru's impressive record of supporting the people in the community they're serving is well known. To that point, Mariann Smith from the Hope Women's Cancer Center also attended the presentation and brought back blankets for some of her patients. Additionally, Subaru provided kid's craft kits at the blanket delivery, and Melanie Clark from the Pediatric Oncology unit was on hand to happily accept adorable lunch boxes filled with crayons and markers for her young patients. That sunny afternoon, there was no doubt that the Subaru team received as much, if not more, than they gave.
---
Subaru and NWF Love the Earth! - Leah K
The students enjoyed the flowers and outside digging!
---
Hunter Subaru Sponsored Tour d'Apple Cycling - Dick M
Hunter Subaru has been an incredible, generous sponsor for the Tour d'Apple cycling event from the beginning (2013). Hunter's Support & Gear (SAG) vehicles rescued cyclists with break-downs, and even those who just decided that our mountains were just a bit too much for them - but not many. Having Hunter's SAG vehicles riding along all the Tour routes comforted every cyclist that Hunter was there to help if needed. Over the past three years Hunter Subaru has helped the Four Seasons Rotary Club raise more than $25,000 for local projects like college scholarships, help for homeless students, books for school libraries, Special Needs Sports and many more. Our heartfelt thanks to Randy Hunter and his willing and helpful staff.
---
Hunter Subaru helps cyclists keep rolling! - Barry M
Hunter Subaru has been an incredible, generous sponsor for the Tour d'Apple cycling event from the beginning. Hunter's Support & Gear (SAG) vehicles have helped cyclists with break-downs, and even rescued those who just decided that our mountains were just a bit too much for them. Having Hunter's SAG vehicles riding along all the Tour routes (over 100 miles!) gave every cyclist the comfort of knowing that someone was there if help was needed. Over the past three years Hunter Subaru has helped the Four Seasons Rotary Club raise more than $25,000 for local projects like college scholarships, help for homeless students, books for school libraries, Special Needs Sports and many more. Our heartfelt thanks to Randy Hunter and his willing and helpful staff.
---
Hunter Subaru is a wonderful corporate sponsor! - Jennifer R
Hunter Subaru has helped OpenDoors of Asheville support hundreds of local children in-need through funding opportunities for education and enrichment they otherwise could not access. Thank you for seeking us out and for all you do to invest in children and strengthen our community!
---
Hunter Subaru supports Adults with Disabilities - Ellen S
On June 20th Hunter Subaru joined with Vocational Solutions to offer the 2nd Annual Park 2 Park Race. This Flat Fast and Fun 8k course does more than just offer runners a great shady place to run on a hot summer day. The race proceeds support the mission of Vocational Solutions, which has been dedicated to providing career and life skills training to adults with disabilities or other vocational barriers, in a safe, caring environment for 40 years. Hunter Subaru makes this race possible with their sponsorship, then goes the extra mile. The dealership hosted race packet pick up, offered a strong presence and volunteer support on race day. And had multiple employees toe the start line to race. Hunter Subaru is a vital community supporter and corporate leader in our local area. Henderson County and Western North Carolina continues to be blessed by the generosity of the owners and employees.
---
I Am in the Green - Brenda D
After first seeing the new wilderness green Outback, I fell in love. I knew I wanted a new Subaru, (my 4th one now) after retiring from teaching. I searched through several dealerships for the right price and color. Finding the color was easy enough in Asheville, NC but the experience left a bit to be desired. Traveling on to Hendersonville, NC proved to be to my advantage. Billy Bryant at Hunter Subaru worked diligently to find the green I wanted at a very fair price. His professionalism and concern for getting the job done right is very refreshing. Now I have my car and am extremely pleased to recommend the Hendersonville dealership to all.
---
Subaru Loves the Earth - E-Waste Event - Danielle S
We would like to thank our customers for participating in our E Waste Recycling event during the month of April. With your help, we were able to prevent 2,090 lbs of carbon emissions from polluting the atmosphere. This is equivalent to saving 81 trees, 356 gallons of gasoline, 3,030 plastic bottles, and 13,936 aluminum cans. Thank you for helping strengthen the Subaru Love Promise!
---
The Hunter Subaru Fletcher Flyer - Ben E
1,000 cyclists gathered at Oskar Blues Brewery in Brevard on June 7 for The Hunter Subaru Fletcher Flyer. They ranged in age from 5, who boasted that he rode almost 30 miles, to age 87. The bikes varied from hand cycles, tandems, recumbents, and ellipticals to traditional road bikes. Nineteen states were represented with riders coming from as far away as California and Colorado. They had four distances to choose from: 100 miles, 62 miles, 50 miles and 31 miles. After the ride everyone relaxed to a little Bluegrass, some BBQ, and Oskar Blues beer or a root beer float. The Flyer is a sanctioned ride for the Leukemia & Lymphoma Society's Team In Training. This year five states were represented and the riders raised over $283,000 for research. The Flyer is a charity ride which benefits Muddy Sneakers, Trips for Kids WNC and bicycle advocacy. Thanks to our sponsors and the 100+ volunteers who make this ride possible. Here is a link to the ride photos: http://pauljackson.zenfolio.com/p206006332
---
MASTER of MUD to benefit our youth - Heather B
Our entire community has benefited from Hunter Subaru's generosity as the premiere sponsor of the Mad Mountain Mud Run. The event is the first of its kind in WNC and is one that invites fun with a 3+ mile obstacle challenge in the mud - averaging 1350 participants, 200 volunteers & thousands of spectators, Hunter is helping make some incredible memories. But, more importantly, this partnership supports Hands On!, Hendersonville's children's museum located on Main Street. We provide educational exhibits, classes and programs that spark a love for learning -- in our facility, in our schools & libraries and at special events. It takes support from the entire community to educate our youth, and we are proud to have the dedicated people at Hunter helping us teach the children of Hendersonville.
---
Brother Wolf Run for the Paws - Carole S
Brother Wolf Animal Rescue is the largest no-kill animal shelter in NC saving over 4,200 animals' lives in 2014. We receive no government funding and rely solely on donations and sponsorships to perform our life saving work. We applaud Hunter Subaru for their continued support as a "Top Dog Sponsor" of our annual fundraising event, "Run for the Paws". This year's event was sold out with over 500 runners and walkers and their 4-legged friends. We have the utmost respect and appreciation for the fine folks at Hunter Subaru for their continued support.
---
North Carolina Outward Bound School - Carrie M
North Carolina Outward Bound School (NCOBS) hosted a half century bike ride in honor of Collier Lilly. The ride offered a beautiful Blue Ridge Mountain route, with 3,600 feet of climbing, that started and ended at Carrier Park in Asheville. In keeping with Outward Bound's bedrock principles of challenge and discovery, the Collier Lilly Ride for NCOBS took riders over challenging mountain passes and allowed them to discover scenic roads for the first time. This exciting event was held on Memorial Day Weekend and in conjunction with the ever popular Mountain Sports Festival. The event raised $5,000 for scholarships for WNC youth to attend NCOBS courses. Currently more than 39% of our students receive scholarships or financial aid each year. Our impacts are measurable and lasting, whether for military veterans, youth, struggling teens or inner city high schoolers. In one recent study about the impact of NCOBS wilderness courses all of the more than 200 NCOBS participants surveyed reported significant improvements in leadership, character development and environmental awareness.
---
idaph events - Daphne K
Hunter Subaru has generously donated to our sporting events that contribute directly back to local and community organizations in our region. We promote healthy living and lifestyle in Western North Carolina by encouraging physical activity in our region. We design and produce cycling, running and multi-sport events that we would also want to participate in!
---
Cradle to Grave 30k,12k, 5k Trail Races - Devin G
On May 16th, 2015, over 300 runners participated in one of the most popular trail running events in the Southeast- The Cradle to Grave Races at the Cradle of Forestry in America Historic Site in Pisgah National Forest. Proceeds from the event go to the Cradle of Forestry in America Interpretive Association, a non-profit based out of Pisgah Forest,NC who has a long-standing mission of promoting educational, recreational, and interpretive opportunities about forest and water resources, natural history, and the Cradle of Forestry in America. The support from Hunter Subaru has helped to create an event which helps individuals and families live a healthier, more active lifestyle as they set goals for the event- many of whom participated in their first running event, or ran a longer distance than they ever have before. In addition to the direct impact that the Cradle to Grave 30k, 12k, and 5k Trail Races have on race participants, the funds generated from the event help support educational programming at the Cradle of Forestry In America Historic Site(once a part of the Biltmore Estate and home to the very first Forestry School in America). Program topics range from Blue Ridge Culture, to the Analyzing the Health of Ecosystems, to Natural Resource Management, all of which help inspire present and future generations to be better stewards of our public and private lands.
---
Subaru Jumstarts Great Futures for Kids - Julia H
Since 1993, the Boys & Girls Club of Henderson County has nurtured and supported the children of our community. Annually, 1,200+ Club members, ages 6-18, benefit from all-day and after-school programs that nurture and support their development: mind, body and spirit. At the Club's 36,000 square-foot campus, members tap into award-winning programs that focus on Education & Career Development, Sports, Fitness & Recreation, Health & Life Skills, Character & Leadership, and the Arts. The best part is that an all-inclusive membership only costs families $5.00 per child, per year. Partners like Subaru help keep the Boys & Girls Club accessible to the children who need us the most in Henderson County. We applaud Subaru and the generous leadership of Hunter Automotive for their investment in the youngest citizens of our local community. Together, we have a lot of love and gratitude - to share.
---
Hunter Subaru Inspires Hope - Deric M
On April 25th, western NC community members inspired hope in the Legacy Run presented by Hunter Subaru. The event served as a fundraiser for Inheritance of Hope (IoH), a local non-profit that inspires hope in young families facing the loss of a parent at Legacy Retreats, all-expenses-paid experiences where families create lifelong memories & receive tools to navigate the challenges of a parent's terminal illness. After a pre-race celebration dinner featuring Sales Professional Gala Rice, runners & walkers of all ages converged on the "Heart of Brevard ". Subaru pace cars provided by Hunter Subaru led the way. "Hunter Subaru has been a presenting sponsor since our inaugural race & their long-standing commitment to our community continues to impact families navigating the challenges of terminal illness," stated Deric Milligan, Exec. Dir. of IoH. Brevard residents John & Heather Crawford, who attended a Legacy Retreat last August, participated. John, diagnosed with ALS, navigated the course in his motorized chair. As he crossed the finish line with family and friends, Deric Milligan was carrying an umbrella to keep John, a local Boy Scout leader, dry. "It was a blessing for me to be there, to hear the crowd cheering John on, & to see the smile on his face. It's a moment I will cherish forever. We are grateful that Hunter Subaru lives out the Subaru Love Promise by putting an umbrella over a stormy situation for hurting families."
---
April 1-30, 2015 E-Waste Recycling Event - Molly M
Throughout the month of April, we are hosting an E-Waste Recycling Event in our store to collect unwanted electronics. We've arranged to work with a company who will responsibly collect, re-purpose, and recycle your electronic waste. Help us protect our environment. Just show up with your E-Waste and we'll do the rest! The first 50 customers who contribute will receive a complementary environmental badge of ownership. We will accept: LCD Monitors, Cell Phones, Laptops, Tablets, CRTs up to 40", Video Games/Consoles, Fax Machines, DVD/VCR Players, Printers, Computer Peripherals, Switches/Routers, Cords and Wires.
---