The 2021 Subaru Love Promise Customer and Community Commitment Award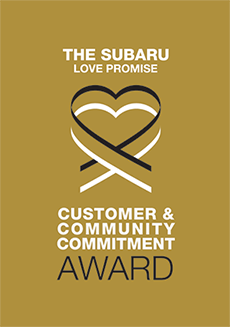 We've been nationally recognized for our dedication to our customers, our community, and the Subaru Love Promise.
We're honored to receive the 2021 Subaru Love Promise Customer and Community Commitment Award. This award nationally recognizes elite Subaru retailers who provide an exceptional customer experience at every interaction with Subaru. These retailers have also demonstrated an outstanding commitment to supporting passions and causes in their local communities in important areas such as the environment, community, health, education, and pets.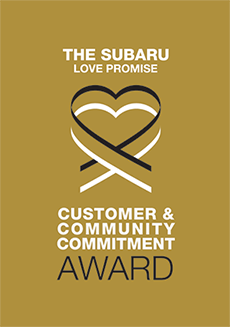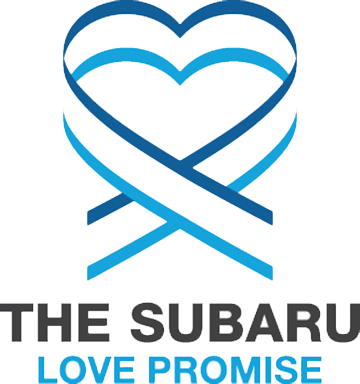 What is the Subaru Love Promise?
Subaru and our retailers believe in making the world a better place and the Subaru Love Promise is our vision of respecting all people. This is our commitment to show love and respect to our customers and to work to make a positive impact in the world.
How is Hunter Subaru dedicated locally to the Love Promise?
Our Love Promise can be seen in various partnerships with local charities and non-profits. We're grateful for the opportunity, not only to be a part of our community, but to serve it as well.
Blue Ridge Humane Society
Hillandale Elementary School
Boys & Girls Club of Henderson County
Love Promise Stories from Hunter Subaru
Subaru and Hunter Subaru believe in making a positive impact on the communities in which we live and work. We uphold that belief through our Love Promise Community Commitment. Every month, we select inspiring stories from customers and partners from around our area who strive to support our collective commitment and feature them here
2021 Outstanding WIOA Henderson County Employer - Kate R
Blue Ridge Community College recently nominated Hunter Subaru and the Hunter Automotive Group for the 2021 Outstanding WIOA Henderson County Employer of the Year, citing Hunter's dedication to supporting workforce development and local apprenticeship opportunities. Hunter Subaru and the Hunter Automotive Group has served the Hendersonville area for 75 years, and has cultivated a strong presence in the community. This is why it is one of numerous automotive businesses taking part in Blue Ridge's apprenticeship program, Apprenticeship Blue Ridge. Hunter Corporation President and CEO Tom Hunter (pictured) stated "We are immensely grateful to Blue Ridge Community College for nominating us, and to Mountain Area Workforce Development Board for awarding us this honor. We work every day to improve the quality of life for everyone, and the Automotive Apprenticeship program can make a huge impact by helping local youth find sustainable career opportunities in our industry." Hunter also praised his employees and added "I specifically credit team members Kirk Firmin, William Skinner, Tim Walters, and Renay Winston who collaborated to make the program possible." Blue Ridge President Dr. Laura Leatherwood praised Hunter Automotive for its strong communal ties. "When our students work as apprentices at a business like Hunter Subaru and the Hunter Automotive Group, they're being taught how to enter a local occupation by local professionals. You can't get more 'hands-on' than that," Leatherwood said. The College offers four different apprenticeship pathways, including automotive, business and banking, manufacturing, and electrical. Hunter Subaru and Hunter Automotive is one of the longtime automotive partners helping students earn while they learn. Apprenticeship Blue Ridge is incredibly competitive, consisting of a six semester, 720-contact hour, 4,000-hour on-the-job training registered apprenticeship program. Apprentices attend class one day per week at the College, then work at their respective business the other four days, all while being paid for their time. "Our apprentices receive free tuition, and there is a multitude of stackable credentials earned throughout the program," stated Dr. Scott Queen, Vice President of Economic and Workforce Development at Blue Ridge. "Hunter Automotive Group is an exceptional partner, which is why we're so proud to nominate them for this award." Through Apprenticeship Blue Ridge's partnership with Hunter Subaru and Hunter Automotive, 24 recent high school graduates have started on an automotive career path over the past two years.To learn more about Apprenticeship Blue Ridge and its relationship with other local employers, visit www.blueridge.edu/apprenticeships.
---
Hunter Subaru's support of the Ugly Sweater Run - Daphne K
The 2nd Annual Ugly Sweater Run took place at the Riveter near the brand new Hunter Subaru dealership off of Airport Road. The annual race takes place the first Saturday of December and doubled its attendance from its inaugural year last year. Thanks to Hunter Subaru we are able to offer some nice amenities to the runners as well as support two local charitable organizations. The Asheville Homebuilders Association Education Foundation and Catalyst Sports Asheville were both non-profit partners with this years event. We are thankful that Hunter Subaru continues to support local running, the athletic community and these organizations that care deeply for the people in our local town. Without their support these events couldn't happen! Thank you Hunter Subaru for your generosity and giving spirit.
---
Janessa Finds Her Loving Home - Laura R
Janessa came to us like so many of our animals do… a stray found and picked up by our local county animal services center. With no one to claim her, Blue Ridge Humane welcomed her with open arms. During her intake medical panel it was discovered that Janessa needed some serious dental work and was also heartworm positive. A heartworm diagnosis may be fatal without intervention and so we knew that Janessa would need to find that special family to administer the needed medication to clear up the infection and help her regain her health. While with us, we were able to tell that Janessa really was the sweetest and happiest girl, who loved walks with volunteers, kept her kennel spotless, and loved a good hard chew toy. A couple weeks after she arrived at our Adoption Center, we were able to place Janessa with a fantastic foster, who not only provided Janessa with her needed medical care, but also exposed her to other dogs and kids, who Janessa adored! Janessa joined us at the WLOS Pet Project adoption event hosted by Hunter Subaru to kick off Subaru Loves Pets Month. Within 5 minutes of her arrival, an older couple came to find her, knowing that she was going to be at the event. They had seen her mentioned online and read her profile, and knew that they needed to meet her. After talking with our adoption counselors about Janessa and her heartworm diagnosis and treatment plan, they shared that their daughter, who was with them, was a vet tech, and could help ensure Janessa's treatment plan continued smoothly. After completing the required paperwork, Janessa left with her new family, ready to start a wonderful, loved life, all thanks to the visibility that the adoption event had given her! Funds from Subaru Loves Pets and support from Hunter Subaru make providing the care for pets like Janessa possible, so that when they find their new family, there are no barriers to adoption and providing lifesaving medical treatments. Thank you Subaru for Making Janessa's Day!
---
Hunter Subaru Building Early Childhood Resiliency - Carrie C
Hunter Subaru partnered with Smart Start Partnership for Children this past year to raise funds for the organization through the Friends of Downtown Bearfootin' Bear Auction. Through these efforts $1900 were raised in unrestricted funds to help the early childhood nonprofit continue to build the strong foundation for young children in Henderson County. Smart Start Partnership for Children through these needed funds is building resiliency for the young children of Henderson County. They are providing scholarships for high quality early education; supporting early childhood educators; spreading early literacy; preparing rising Kindergarteners for their first day of school and their entire education; and supporting families of newborns through their newest activity, Family Connects. These initiatives are building resiliency, and Hunter Subaru is apart of that story. To learn more about the good work of Smart Start visit their website at www.smartstartpfc.org
---
Black Bear Half Marathon & 8k a Race to Remember - Daphne K
The 2nd Annual Black Bear Half & 8k race was one for the history books! The sold out race returned to Hendersonville, NC on Saturday, October 9th. We were thrilled to have some of the race proceeds and Hunter Subaru's sponsorship support the Friends of the Oklawaha Greenway, the Jackson Park Flood fund as well as IC Imagine school. Leading up to the race the area experienced a LOT of rain. So much rain that it flooded the amazing flat and fast race course on the Oklawaha Greenway. We were bummed but knew the race must go on. So the race team pivoted to a completely different area to run the race that was not flooded and the City of Hendersonville fully supported the changes. Runners were in such good spirits that they were able to continue to run and to achieve those goals they worked so hard towards. After all, it takes months and months of dedication and hard work to train for a half marathon! There was no way that we were going to let mother nature change race plans! Our community of runners is so important to us. Thanks to Hunter Subaru we were able to pull in some last minute resources to help us with reinforcements on the new course. We also were able to raise some much needed funds for the Jackson Park flood fund so that they can continue to improve the areas within the park that flood quickly and easily. Thank you Hunter Subaru for continuing to support this annual event for our running community and the non-profits that are able to supplement their programs because of it!
---
Trick or Trail 5k supporting Friends of Dupont - Daphne K
The Annual Trick or Trail 5k took place on Saturday, October 23, 2021 with next-to-perfect fall running weather at Dupont State Forest. All abilities of community runners come out to enjoy the annual Costume Contest, the 5k trail race, s'mores and yummy hot soup at the finish line. This unique, night-time running event is not only the only race of its kind in WNC, it raises important funds for the mission of the Friends of Dupont organization. The Friends help protect, maintain and advocate for the entire trail network in Dupont. With the continued support of Hunter Subaru we were in turn able to help support the Friends of Dupont and their efforts. Thank you Hunter Subaru for giving back so much to our community. Your sponsorship of the race extends beyond just event day, it continues to spread into weeks and months to come through the good works of the Friends of Dupont.
---
Making Wishes - Kate R
Make-A-Wish and Hunter Subaru have been partnered for years, part of the Subaru Share the Love campaign each year. This year, 11 members from Hunter Subaru began a 14-week training session to gear up for a 28.3 mile one-day hike benefitting Make-A-Wish Central and Western North Carolina. The team raised over $30,000 for the organization and had all 11 members partake in the hike weekend. The impact of these dollars granting wishes is so immense, and Hunter Subaru is the largest contributing team we have had in this fundraiser. This year, they were the top team and had 8 out of the 11 members complete the entire hike. Thank you again for Hunter Subaru for supporting this team and Make-A-Wish.
---
News 13 WLOS Pet Event - Holly V
Hunter Subaru supported the News 13 WLOS Pet Event again in 2021! This event brings together the majority of the pet adoption agencies in the region in ONE location. Hunter Subaru hosted the event at their new campus in Fletcher and it was a highly successful event. Our biggest challenge was we adopted so many animals- we ran out of animals to adopt! We also had some senior and handicapped adoptions that really made the event a truly life saving event. The Hunter Subaru campus was perfect with the beautiful outdoor spaces and dog park! We can't thank Hunter Subaru enough for all of their amazing support of pets in need in our community.
---
Oktoberfest Half Marathon & 5K - Leslie G
The Oktoberfest Half Marathon and 5k helps converts a challenging run into funds for the Mills River Partnership as well as local schools. Our race took place on October 2, 2021 at the Oskar Blues Brewery. Hunter Subaru stepped up to be our presenting sponsor for this event in 2019 and hung with us as we had to postpone the race from 2020 to 2021. Knowing we had a solid supporter in Hunter Subaru, we were able to pull off the 2021 race and bring back one of the area's favorite new races. Thanks again to Hunter Subaru for "Sharing the Love" with the Oktoberfest Half, the Mills River Partnership, the Brevard Academy and the Friends of Pisgah Collective. Prost!
---
Hunter invests in environment and recreation! - Jenn T
Thanks to Hunter Subaru's generous sponsorship, Conserving Carolina hosted a very successful Conservation Celebration fundraiser. This year's event had to be held virtually, but we raised over $90,000 for conservation projects in Henderson, Transylvania, Polk, and surrounding counties. Hunter's investment makes a real difference in our community through land conservation and restoration, outdoor recreation, environmental education, and so much more. Right now this gift is opening new trails, like Youngs Mountain Trail in Lake Lure and the 19-mile Ecusta Trail greenway that will connect Hendersonville to Brevard, restoring natural floodplains like the one at Mud Creek in Mills River, engaging more people with conservation through outdoor challenges, bilingual nature walks, and forest bathing, and progressing climate solutions by protecting forests, and creating wildlife corridors. We are so grateful to Hunter Subaru for their commitment to our shared environment and community!
---