Hunter Subaru in Hendersonville, North Carolina is excited to introduce the all-new 2013 Subaru BRZ; the sports car that is as affordable off the lot as it is at the pump.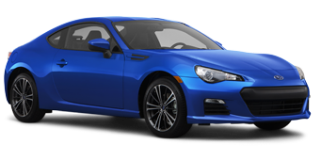 After a long wait, the completely new 2013 Subaru BRZ has finally hit the scene. Auto enthusiasts and Subaru fans alike have long been waiting the availing of Subaru's new sportster to hit the track the results have been overwhelming. With an extremely unique exterior body styling and one of the most affordable price tags in its class, the 2013 Subaru BRZ is sure to be a favorite amongst speedsters and Subaru aficionados alike. Extremely well-engineered components lends themselves well to the increased handling capabilities of the BRZ a flat-four-cylinder 200 horsepower engine which also lends itself well to the speedy BRZ's fuel economy, which comes in much higher than its competitors. Though it is the only Subaru to not have 4-wheel drive, the BRZ's near-wheel drive only helps to fill out to the sporty feel of the drive and standard vehicle stability control system takes care of the rest.
Like many other Subaru vehicles, the 2013 Subaru BRZ comes with an assortment of optional features based on which trim package the owner selects; but also comes with many impressive standard features including a Bluetooth hands-free phone system and streaming audio connectivity. To get the most of the BRZ, drivers are recommended to go with the fully synchronized close-ratio 6-speed manual transmission, but the Subaru BRZ also comes with a 6-speed automatic transmission with paddle shifters. Also available on the Premium and Limited trim packages is voice-activated GPS navigation and premium audio with an 8-speaker sound system along with MP3 and XM Satellite Radio compatibility.
When flying through corners, safety is a must which is why the 2013 Subaru BRZ comes fully prepared with some of the finest safety features of any high performance vehicle in its class. Six different air bags are positioned around the cabin for maximized protection. The BRZ also features an electronic brake force distribution system that balances braking around car and can detect the event of a panic-stop situation and provide additional force for a powerful stop. With room for two rear passengers and a rear cargo area in combination with laudable fuel economy make the BRZ the sports car that can also double as a commuter. Of course, the best feature about that car is that it is made with the same detail allotted to every model of Subaru automobile. For more information about this exciting new vehicle, consult your Hendersonville Subaru car dealership experts at Hunter Subaru and find out how to get your hands on one of the most exciting cars to ever hit the North Carolina streets and highways; the 2013 Subaru BRZ.